10% off on
web orders over $100


Florida issues 2002 duck stamp in reverse;
Correct design is the scarce stamp!
The Florida 2002-03 waterfowl stamp has the dubious distinction of being the only state stamp issued in reverse – at least to my knowledge. The stamp error is a mirror image of the artwork and was detected by the artist when he received the stamps to be matched to prints.

The stamp itself is quite attractive. Harris painted the duck flying from left to right, and published the print the same way. But somehow the actual stamp issued by the state showed the duck going the wrong way – from right to left!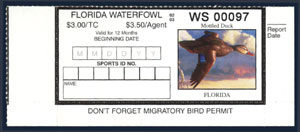 The error was not noticed until all the stamps were printed, and the distribution process to state agents was already well along.

Some may think the design flip-flop is a minor matter – but not to the artist.



According to Harris, "The design is copyrighted by the artist and used by the state under contract with the artist. However, in this case they made the mistake and had already issued many of them to the public before I found out about the error.

"I alerted them to this mistake and had them destroy all the artist stamps and then print them properly as per the copyrighted image."

The state catered to his demands, as they should have done, and reprinted 1,008 stamps with the left-to-right flying duck. At 12 stamps per pane, 84 sheets were reprinted.

Another difference in the revised issue is that its stamps are rouletted on all four sides. The first stamp with the flopped fowl was a die-cut issue.

The reprinted stamps were used by the artist for sale with prints, and the ones not needed for prints were sold publicly. Tens of thousands of the incorrectly designed stamps had already been distributed, so those with the corrected design are far scarcer than the error stamps.

Some similar problems in the transition from artwork to stamp have occurred in the past – but only a few.

In 1980, the Nevada stamp by Dick McRill was issued the same as the original painting, but the artist's prints were issued reversed. Those prints were never corrected, so all that exist are the opposite image of that on the stamps.

The 1983 Michigan stamp, wood ducks by Rod Lawrence, also was issued in a flopped format, but was never corrected.

---

Back | News Page