10% off on
web orders over $100


Hautman designs featured on United Nations issue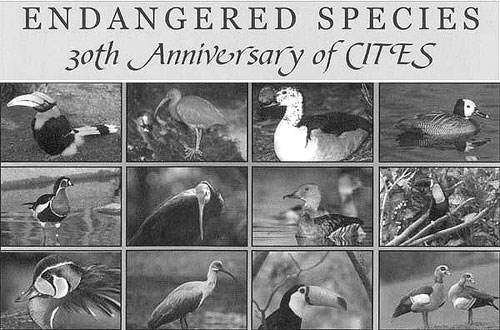 On April 4, 2003, the United Nations Postal Administration will issue the eleventh set of 12 commemorative stamps in the Endangered Species stamp series. The stamp series is designed by the award-winning Hautman brothers, multiple winners of the Federal Duck Stamp contest.

The 2003 Endangered Species Annual Collection folder and three maximum cards will also be released on the same day.

As the first day of issue of the 2003 Endangered Species Series will coincide with the Postage Stamp Mega Event, a special "show cachet" will be available. At this time, all three Hautman brothers are expected to be on hand for the ceremony.

To obtain the show cachet, send self-addressed envelopes to the address below, affixed with UN/New York stamps only (UN/Geneva and UN/Vienna stamps are not acceptable). The envelopes will be imprinted with the requested show cachet and returned through normal mail channels. Requests for this show cachet should be postmarked no later than March 27, 2003.

UN Show Cachet – Postage Stamp Mega Event
c/o Mr. Roger Lyons
UNPA, P.O. Box 5900, Grand Central Station
New York, N.Y. 10163-5900
212-963-7684 or 1-800-234-UNPA.
---

Back | News Page