10% off on
web orders over $100


Triptych stamps issued for West Coast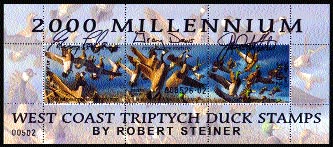 California, Oregon and Washington have each shared a portion of one work of art. A triptych (trip-tick) is a "picture, design, or carving on three panels, generally hinged together, often used as alter pieces," according to The Scribner-Bantam English Dictionary.

Artist Robert Steiner prepared the artwork, which features an assortment of geese, mallards, wigeon, and a pheasant. The birds are taking off from a marshy area, against the background of a threatening sky. The design is a very good one, and the detail of each bird and species is clearly visible. The painting was divided into three pieces, with Washington getting the left, California the middle, and Oregon the right third. Face values are $6, $10.50, and $7.50 respectively. A Governor's Edition will be issued for each state, and a combination souvenir sheet signed by all three states' governors.

Each state's stamp was issued with a print, and the entire scene was offered as a unit to commemorate the millennium.

According to the data sheet from the publisher, Steiner Prints, "there has never been any duck stamp prints like these before and there will not be another millennium to commemorate for a thousand years!"

The statement did not predict no other such design would be done, only there would be no millennium to celebrate for a thousand years. After all, a thousand years is a long time to forecast anything for certain.

The design and idea; it is well done and binds the West Coast together. Consider that such artwork could be done for only one state, and the design separated for a three year period of duck stamps. Only one print should be issued, thereby thinning out the print population, and reducing stamp production costs. The idea may even attract new buyers of prints and stamps, who are now saturated with a new stamp and print each year.
---

Back | News Page