10% off on
web orders over $100


ND forced to issue text stamp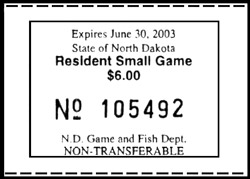 The North Dakota Game and Fish Department has advised that due to a fire at their stamp publisher, Sport 'en Art, of Sullivan, IL, the 2002 pictorial collector stamp will not be available.

North Dakota will offer a 2002 non-pictorial hunter-type stamp as a replacement.

According to Dan Harshman of Sport 'en Art, several states may be affected by the fire which destroyed their printing press. We will keep you posted as details are made available.
---

Back | News Page