10% off on
web orders over $100


Best vs. Worst – State Duck Stamps for 2002
The conclusion of a year is the proper time to review the state duck stamps released. In the duck stamp business, I see duck stamps all day, every day, and some leave a lasting impression, for better or worse. Remember, they are just my opinions, certainly not intended to upset any of these talented artists.

Before getting into the mud-duck slinging, there were 44 states issuing stamps in 2002, the same as 2001. The absentees were Georgia, Idaho, Missouri, Nebraska, New Mexico and Utah. Georgia, Missouri, and Nebraska should hang their heads in shame for not having successful programs. These are major duck areas, replete with hunters and collectors willing to buy stamps.

All states issued pictorial stamps except North Dakota. Their publisher had a fire which destroyed the printing presses, so they issued a text only stamp this year. All but two states depict waterfowl, Hawaii (Chukar partridge) and Wyoming (river otter). These states are not eligible for recognition since these animals are not migratory waterfowl. Thankfully, since both offer mediocre images.

The most popular species depicted was canvasback (5), followed by green-winged teal (4), and wigeon with (3). Two states, Illinois and South Carolina featured retrievers, and Connecticut and Maryland have a lighthouse in the scene.

Five previous federal winners also had 2002 state designs to their credit. Adam Grimm (NY), Ron Louque (NC); Jim Hautman (NJ); Joe Hautman (TX); and Bob Steiner (AK, CA and OR). Steiner once again led the pack with three states to his credit.

Perhaps the award for the smallest image should be retired, since it appears Florida will reign in this dubious area. Very nice artwork, but certainly not meant for all to see. This state seems overwhelmed with paperwork, dedicating approximately 60% of stamp space for reporting data.


Nevada is a hot state, in more ways than one. Their 2002 design wins the most obnoxious color award, being a loud orange-brown. When looking at all the 2002 issues, Nevada is blinding. Too bad, as the artwork, by first-time state duck artist Jeff Hoff, is lovely, but the color is much too harsh, albeit realistic for a desert environment.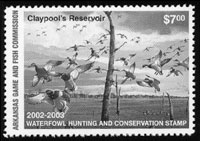 The artwork on Arkansas stamp, by Phillip Crowe, is exceptional, and a realistic scene, but a bit too many ducks. I estimate about 200 ducks, but many are just specks. Perhaps the original artwork was larger and the scene reduced. If so, it was crammed too much for clear recognition of the waterfowl. All due apologies to this state and their great program which ranks among the very best in the nation.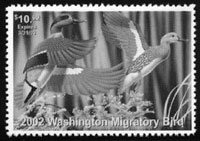 The enigma award this year goes to Washington, with artwork by Don Nicholson Miller. The green-winged teal are fantastically detailed, and photo-like. You get the feeling you can touch them, and each feather is vivid and obvious. Take a look at what appears to be reeds in the background. The size of these reeds makes them more like trees, and the ducks are way too small and out of proportion to the setting. It's a puzzling image, especially if you could see the water and reflection under the words at the bottom.




In the no-award category, Minnesota's artwork is drab and lifeless, perhaps due to the printing process. The design of a swimming ruddy duck by John Freiberg, is grainy and indistinct, and difficult to collect being on a backing of about 4" X 8". Presentation is everything, they say.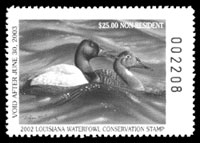 Louisiana wins the award for taxing their neighbors. Their non-resident stamp has a $25 face value, but their resident stamp is only $5.50. It's plain that in Louisiana they don't want anybody shooting their ducks but folks who live there. Perhaps the bordering states, Texas, Arkansas, and Mississippi should reciprocate by upping their non-resident fee. It seems Louisiana may not be a "Sportsman's Paradise" for non-residents.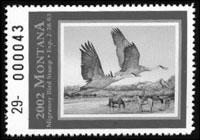 This year's crop of stamps is below the aggregate norm. Several are rejects from the federal contest, and others have dark designs, miniscule ducks, or outrageous colors. My least-favorite design for 2002 is the Montana stamp. The featured species is a sandhill crane, horses, cowboys, and mountains. The design is also vague, and the light pastel color makes it difficult to see the detail in the objects. Their Chamber of Commerce, however, should be very pleased with the design.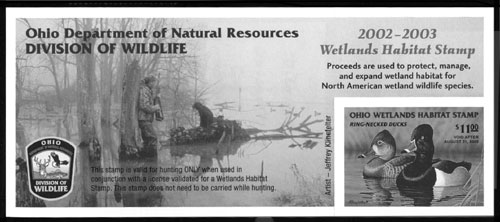 The last award is actually two awards, and goes to Ohio and artist Jeffery Klinefelter, along with a gutsy state game and fish design department. Take a look at the life-like pair of ring-neck ducks serenely drifting on a pond. The artwork is very detailed, imaginative, and in-your-face. The overall form is dollar-bill size, mimicking the federal self-adhesive type stamp, although the Ohio stamp is gummed.

The hunter and his faithful black lab are waiting in the shallows on a misty morning. Decoys are set in place, the lab is eager, and the scene real. This is a stamp a hunter and/or collector can enjoy, and certainly gives a better feeling about spending $11, even if they get shutout!
---

Back | News Page