10% off on
web orders over $100


National Wildlife Refuge System celebrates 100 years
Commemorating a Pivotal Moment in History
On March 14 – a century to the day President Theodore Roosevelt officially designated Pelican Island National Wildlife Refuge, will be honored with a 37¢ commemorative postage stamp. The stamp will be issued in Sebastian, Fla. Its first day ceremony kicks off the U.S. Fish and Wildlife Service's much larger, year-long celebration of the refuge system.

Pelican Island National Wildlife Refuge is located in the Indian River Lagoon on the east coast of Florida. The National Wildlife Refuge System is America's only network of federal lands dedicated specifically to wildlife conservation, representing a steadfast commitment to protecting our nation's wildlife heritage.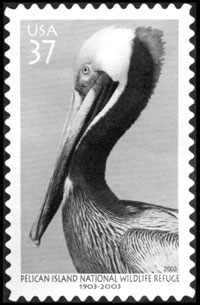 The National Wildlife Refuge System story began in 1903 when President Roosevelt learned that brown pelicans and white egrets living on tiny Pelican Island on Florida's east coast were being slaughtered for their feathers. Taking action to protect the birds and their habitat, Roosevelt issued an executive order, establishing Pelican Island as the first national wildlife refuge. Today, more than 30 species of birds use the refuge as a rookery, roost or feeding ground, and some 16 species nest there.

Roosevelt went on to create 51 more refuges during his presidency, and today the National Wildlife Refuge System includes more than 535 refuges and thousands of waterfowl production areas, spanning nearly 94 million acres across the United States and its territories.

National wildlife refuges form a series of stepping-stones for ducks, geese, caribou, and thousands of other birds, mammals, fish, reptiles, amphibians, insects and plant species. Many national wildlife refuges were established along the four migratory bird flyways to provide crucial stopovers for birds to rest, feed, breed and recharge during their long migrations.

More than 400 national wildlife refuges are open to the public, offering a variety of outdoor activities – fishing, hunting, environmental education, wildlife observation and photography – and making them special places to discover the wonders of nature. Many refuges offer additional opportunities for nature hikes, bird tours, wildlife drives and other activities.

A Network of Wildlife Habitats
This vast network of prime habitats gives hundreds of critically endangered species a chance to recover, provides stopover areas for millions of migrating birds and protects premier fisheries. The National Wildlife Refuge System safeguards plants and animals of every variety, from cactus to caribou, butterflies to bison and salmon to songbirds.

As the land management arm of the U.S. Fish and Wildlife Service (USFWS), the National Wildlife Refuge System helps

fulfill a critical part of the agency's overarching mission: to conserve the nature of America by protecting fish, wildlife, plants and their habitats for the continuing benefit of the American people.

Scenic Getaways
The National Wildlife Refuge System appeals to strong cultural traditions of American society, such as enjoying the wonders of the outdoors and ensuring wild, open space for future generations. More than 35 million Americans visit national wildlife refuges each year to enjoy unique outdoor experiences. Most people come during peak periods of bird migration, when refuges are thriving with wildlife. Hundreds of thousands of schoolchildren visit refuges each year to learn more about the natural world. Sportsmen come to fish or hunt, while others savor the solitude of these special places.

And over the last several years, more people and a variety of organizations have united to protect and strengthen the National Wildlife Refuge System. This support is most visible through new legislation and other Congressional action, and growth in community advocacy, volunteerism and partnerships. However, a large segment of the American people have yet to discover their National Wildlife Refuge System.

Poised for a New Century
The USFWS is undertaking a number of special, nationwide efforts to strengthen the National Wildlife Refuge System, and will use the centennial anniversary as an opportunity to build broad public understanding and appreciation of the value of these conservation lands to society.

To learn more about the National Wildlife Refuge System, visit www.refuges.fws.gov, and remember, your duck stamp will serve as your admission to any National Wildlife Refuge!
---

Back | News Page