10% off on
web orders over $100


Remarque fares well in NYC auction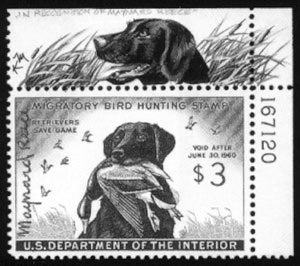 A remarqued 1959 duck stamp, the popular King Buck black Labrador stamp was offered by New York City auction house, Robert A. Siegel Auctions in their December 17, 2002 sale.

The stamp, lot 1571, a remarqued plate number single fetched $490, including commission. This is the first instance of which we are aware, of a major public auction house selling a remarqued duck stamp.

This is the first known instance of a remarque being offered by one of the large philatelic auction houses.

Remarque is a French word, loosely meaning redrawn, and is a technique used by artists to paint an original image on a stamp or print.

The stamp was signed by the artist, Maynard Reece, and remarqued by Ken Michaelsen in recognition of Reece's work. Reece himself no longer does remarques. Reece was a five-time winner of the federal stamp design, for the RW15, RW18, RW26, RW36, and RW38 stamps.
---

Back | News Page