10% off on
web orders over $100


President Harrison Supporter of Waterfowl Conservation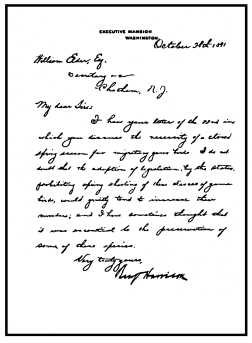 At left: President Harrison's letter as described in the article below.

Just how long has the idea of waterfowl conservation been around? As early as 1891, President Benjamin Harrison expressed his opinion on migratory game bird conservation and the need for hunting control. His response was directed to the Chatham Fish and Game Protective Association, Chatham, New Jersey.

President Harrison's letter, written on Executive Mansion stationery, was as follows:

"My Dear Sir- I have your letter of the 22nd, in which you discuss the necessity of a closed season for migratory game birds. I do not doubt that the adoption of legislation by the States, prohibiting spring shooting of these classes of game birds, would greatly tend to increase their numbers, and I have sometimes thought that it was essential to the preservation of some of these species. Very Truly yours, Benjamin Harrison."

This document is the earliest known involvement on record by a sitting president, and the highest officed individual to be involved with migratory bird conservation.

It should serve as a benchmark to guide current bureaucrats on the importance of this program with its roots so deeply imbedded in our history.

President Harrison and the Chatham Fish and Game Protective Association would both be gratified to see the progress 108 years later.

A successful program has been in effect for 65 years, and despite the increase in human population, homes, malls, and golf courses, the duck population is thriving.
---

Back | News Page