Your cart Subtotal is:
5200.90

10% off on
web orders over $250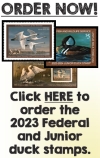 America's Darling: The Story of Jay N. "Ding" Darling
Jay Norwood "Ding" Darling, who won two Pulitzer prizes for his editorial cartoons, was one of America's true conservation pioneers. Darling's love of the outdoors and his passion to preserve it is well documented, but conservationists now have the chance to learn more about the man who conceived the idea of the federal duck stamp program and drew its first design. Darling's great-great-grandson, Chris Steffen, hosts America's Darling, a DVD chronicling his ancestor's illustrious career.

Click on the video below for a preview of this absorbing documentary.

DVD, appx 60 minutes $14.95
Albums
Stearns and Fink Album: The Best Federal Stamp Album! More than just a stamp album - the Stearns and Fink album is an elegant way to display your stamps. One stamp per page with detailed artist, print, stamp, and duck information, through 2018.

Plus shipping and handling.

---

Fishing Stamp Album: Scott binder compatible pages. Over 200 pages and 1,500 spaces through 2000, pictorial issues, by Howard Richoux and Bob Dumaine.

Complete Setup - Album pages, Scott binder & slipcase and three packs of precut mounts, plus free shipping! ... $129.95

Album pages ... $69.95
Scott Binder (3-ring) ... $41.99
Slip Case ... $37.50

$8.00 shipping
The Duck Stamp Story

Written by Bob Dumaine and Eric J. Dolin

The most comprehensive and exciting book ever written on the Federal Duck Stamp Program. Hunters, stamp collectors, conservationists, art enthusiasts, and bird-watchers will enjoy this book for years to come!

Hardcover – $24.95 (Reg. price $29.95)

Softcover – $15.95 (Reg. price $19.95)

$5 shipping and handling will be added. $2 for each additional book.

For more information on The Duck Stamp Story, click here.
Worldwide Packet

We have purchased a huge holding of worldwide duck stamps, and are pleased to offer for UNDER FACE VALUE! Among the 30 different stamps are First of Nation issues from Australia, Belgium, Denmark, Ireland, Italy, Mexico, New Zealand, Russia, Sweden, and the United Kingdom.

30 Different Issues
Now $69.95
Stamp Print Proofs


45 different, mostly duck, Stamp Print Proofs, some conservation. On card, most do not show stamp denomination. Some say "sample." Very interesting group.

$59.00
License Plates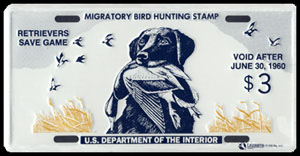 RW26 Vanity Plate 8.95
RW42 Vanity Plate 8.95
$3.00 shipping per license plate
---
Copyright © 1999-2023 Sam Houston Duck Co. All rights reserved.
To report any technical problems with this website, contact our webmaster.